Our partner for scuba diving is Savedra Dive Center. Savedra Dive Center is a modern dive center and offers dive courses from beginner to Instructor level. Course material is available in many languages, including English, German, Spanish, Italian, Chinese, Japanese, Korean, Russian, Dutch and others. The international team of diving instructors is very professional, experienced and multilingual.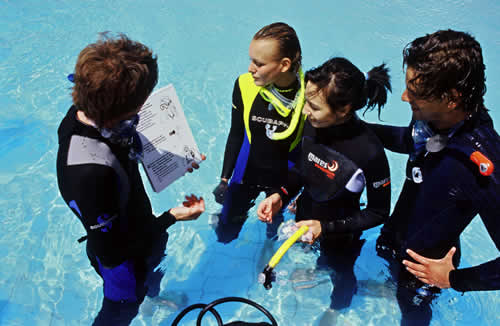 Savedra Dive Center offers dive courses from the 2 biggest dive training associations in the world, PADI and SSI. Both associations offer excellent training courses, training material and are acknowledged worldwide. If you are not sure which of these two agencies to select, just let us know which course you are intersted in and we come back to you with info on how to select the right course for you.
Dive Course
Description
Length
Bubble maker
Pool dive with scuba equipment for kids 8-10 years old
2 hours
Discover Scuba
Try Dive
Pool and open water dive, minimum age 10 years, max. depth 12m
½ day
Scuba Diver
Basic scuba diving skills, max. depth 12m
2 days
Open Water Diver
4 day certification course, allows you to dive with a buddy independent of a professional, max. depth 18m
4 days
Advanced Adventure Diver
Advanced Open Water Diver
5 adventure training dives, incl. night diving, deep diving, allows you to dive advanced dive spots, max. depth 30m
2-3 days
Emergency First Response II
Non-diving medic first aid course, prerequisite for Rescue Diver and professional diving courses
½ day
Rescue Diver
Prevent and manage dive emergencies
3 days
Please contact us for specialty courses like deep diver, shark diver, dive master, dive con and instructor level courses.